Posted June 12, 2018
Signode BXT3 Plastic Strapping Tool
Signode Packaging Systems introduced the BXT3 Plastic Strapping Tool.
---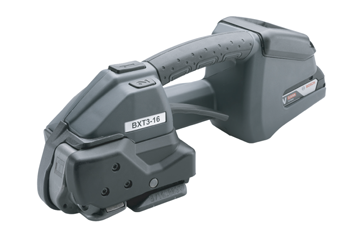 Featuring a lightweight and balanced design, the drop, dust and moisture-proof tool is easy to assemble and disassemble and features a full touch, three-color display. The BXT3 is perfect for all types of applications, including heavy-duty applications requiring high tension force and extremely rough and tough environmental conditions as well as sensitive, light-duty applications requiring soft tensioning and small and thin straps.
The BXT3 is the world's first strapping tool with a number of important features including; real-time indication of tension force, variable tension speed, strap alignment indication, three color information display and acoustic signal. A quicker and simpler operation than comparable tools, the BXT3 is perfect for various recurring packaged goods with different setting requirements. The tool is also equipped with the ability to switch between standard and favorite settings, including tension force, welding time and operating mode.
"We are thrilled to introduce the Signode BXT3," said JR Stanley, market segment manager, Signode Packaging Systems. "We listened closely to what customers wanted from a strapping tool and developed this product to meet the various requirements in a wide range of industries. The tool has a lot of unique and powerful features that are perfect for nearly every application."