Posted November 19, 2018
Simonds Saw SBX-One
Simonds Saw announced the launch of SBX-One, a new bandsaw blade product for the structural steel market.
---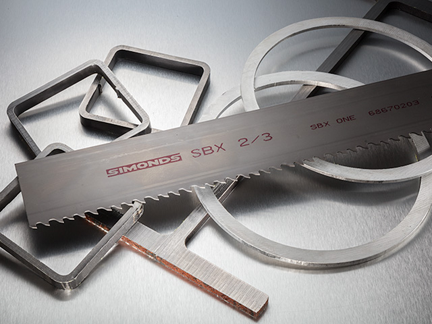 SBX-One marks a significant development for the global structural steel market, the company says.
Over the past year, Simonds Saw developed SBX-One, which stands for "Structural Blade Extreme," through prototyping and testing with select customers. Multiple rounds of testing and optimization led to a faster, stronger, and quieter blade, a major improvement over competing bandsaw blades, Simonds Saw said in a press release. SBX-One is ideal for cutting cross-sections, while avoiding pinching.
"We're excited to bring a new product to market that specifically addresses industry needs for durable structural steel cutting, as well as the needs articulated by the next generation of bandsaw operators," said David Miles, Simonds Saw president. "We truly believe this product will have a significant global impact on the structural steel industry."
Miles also noted that he expects customers to particularly appreciate this new product's high durability and low sound. In both of those key categories, SBX-One significantly outperforms competitors' blades, and proves to be a product well fit for the next generation of metal cutting solutions.