Posted December 2, 2019
SKILSAW cordless worm drive saw
Introducing the SKILSAW 7-1/4-inch TRUEHVL Cordless Worm Drive Saw.
---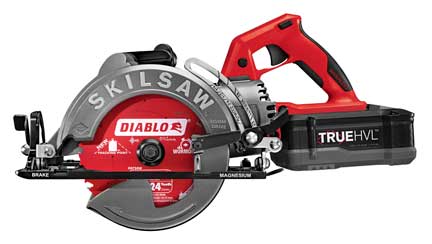 The first and only cordless Worm Drive saw gives users legendary SKILSAW power to go anywhere. Powered by the TRUEHVL High Voltage Lithium Ion battery, designed specifically for Worm Drive. This saw delivers the performance, durability and quality that pros expect from SKILSAW.
With the same design, balance and controls of SKILSAW's corded Worm Drive, it feels familiar right out of the box. This true worm drive saw offers the convenience of a cordless saw without compromising any Worm Drive power or performance.
Additional features of this Worm Drive saw include:
• All magnesium construction makes it lightweight and tough
• Brushless motor responds to challenging applications by boosting power and torque
• Electric brake quickly stops the blade rotation when the trigger is released
• Integrated dust extraction system to work cleaner
Get incredible power and performance from the TRUEHVL battery thanks to an innovative design that arranges cells in a unique configuration to evenly distribute heat to extend run time. With patented Stay Cool technology, each cell is wrapped in a temperature controlling material that keeps cells cool to deliver better performance. The intelligent power management system maximizes power by monitoring and optimizing each cell. A fully charged battery powers an entire day of cutting. Recharge at the end of the day on the TRUEHVL Quick Charger that fully charges a drained battery in only 1 hour.
"SKILSAW invented the world's first worm drive saw. For nearly 100 years the professional has trusted SKILSAW to deliver worm drive power and durability. Our detailed analysis and extensive field testing with pros ensure that the first and only true cordless Worm Drive saw delivers the power and performance SKILSAW is known for," said Katie White, SKILSAW brand manager. "Pros have been asking us for a cordless saw with our legendary Worm Drive power. There are cordless "Worm Drive style" saws in the market, but we have the first and only cordless saw that is true Worm Drive."