Posted February 20, 2018
Tools@Height Drop Prevention Solutions catalog
The new Tools@Height Drop Prevention Solutions Catalog from Snap-on Industrial offers a full line of kits, modules and products for construction and skilled trade professionals to safely and reliably perform their jobs when working at height.
---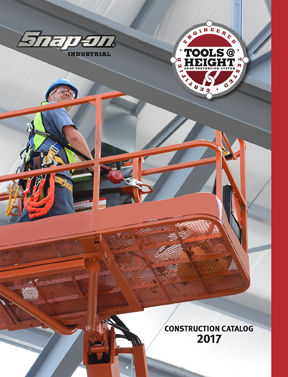 Snap-on Industrial's Tools@Height tethered tool system is designed specifically for applications involving work being performed at height, and anywhere dropped or lost objects are of concern. The system utilizes engineered attachment points that are designed and tested to maintain functionality of the tools while reducing the likelihood of injury to personnel or damage to equipment below. Attachment points, lanyards, tool bags and other components of the system work together to create innovative, dependable solutions to dropped-object risks.
In addition to the Tools@Height systems, Snap-on Industrial offers training for workers on the safe and effective use of tethered tools.
"There can be a vast difference between the appearance of safety and the existence of safety," said John Martell, product manager for Snap-on Industrial's Tools@Height program. "Our Tools@Height system is engineered to provide proven drop prevention equipment that helps to keep the workplace safer while maintaining productivity."
The Tools@Height Drop Prevention Solutions Catalog features kits for specific disciplines that can be ordered with a single part number. Kits arrive with all tools and tethering devices installed. Just open the box, put on the belt, or add the modules to a climbing harness, and go to work.