Williams LED Rotating Worklights
Working in poorly lit conditions tends to lower productivity and leaves technicians exposed to a greater risk of injury. That's why Snap-on Industrial has engineered the new Williams 24 and 48 LED Rotating Worklights.
---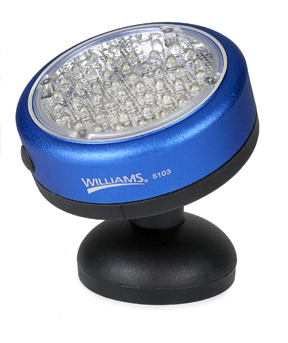 Designed to shine bright light anywhere the technician goes, the Williams LED Rotating Worklights provide ultra-bright illumination while the rotating heads can be moved to just the right position.
The Williams LED Rotating Worklights are available with either 24 or 48 high output LED lights, and both come with a magnetic base for instant and secured mounting. The Williams 24 LED Rotating Worklight (Product code JHW5102) includes three AAA batteries, while 48 LED Rotating Worklight (Product code JHW5103) includes two AA batteries and is two times as bright as the 24 LED model.