Posted June 22, 2016
Snap-on ESD-Safe Screwdriver Sets
Static electricity silently wreaks havoc on sensitive components, damaging products and impeding production. That's why Snap-on Industrial is committed to reducing the potential for electrostatic discharge with its new Electrostatic Dissipative (ESD)-Safe Screwdriver Sets.
---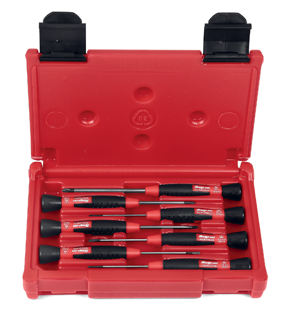 Snap-on Industrial's four ESD-Safe Screwdriver Sets, engineered with electrostatic dissipative materials that won't build up or transfer electrostatic discharges, are ideal tools for working with or around sensitive electronic equipment. Designed for precise, detailed work, each screwdriver is clearly marked ESD protective. Both the grip and plastic barrel of the rotating handles have conductive additives to ensure electrostatic charges are safely dissipated. The tool blades are manufactured to exacting tolerances from special heat-treated alloy steel. The industrial black tips prevent chipping of chrome to reduce the possible contamination at the work location.
Snap-on Industrial offers the new ESD-Safe Screwdrivers in four sets:
7-piece Flat/Phillips Combo (stock number SGDE70ESD)
4-piece Long Handle Flat Phillips® Combo (stock number SGDEL40ESD)
7-piece Hex (stock number SGDEH70ESD)
7-piece Torx (stock number SGDET70ESD)
(Combo, Hex and Torx sets come in blow molded storage cases)
These sets are the latest addition to the ESD protective tools offered by Snap-on Industrial, which also include ESD-safe precision wire cutting pliers and ESD-safe holding pliers.