Posted September 9, 2020
Snap-on 3/8" drive multi-position head ratchet
Need to see – and work – around blind corners and in tight spots? The new Snap-on Industrial 3/8" Drive Dual 80 Technology Soft Grip Multi-Position Head Ratchet (FH80MP) has you covered.
---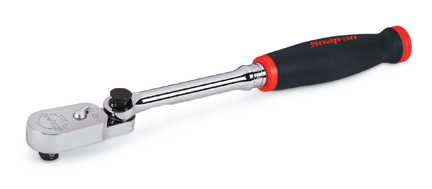 With 16 different lockable locations across a span of 240°, say goodbye to loss of productivity from wasting time fumbling to access hidden bolts. The F80MP is a 3-in-1 ratchet that functions as a fixed-head and offset-head ratchet, as well as a speeder to quickly tighten or loosen fasteners.
Simply press the release button to swivel the patent-pending ratchet head into one of 16 different positions - ideal for tightening or loosening fasteners in tight or hard-to-reach locations. Find your sweet spot, lock the ratchet head, and get to work.
In tight aerospace and industrial applications, a smaller ratcheting arc is key. Thanks to the patented Snap-on Dual 80® Technology, the FH80MP features an 80-tooth gear with just 4.5° of swing arc needed to engage the next tooth.
Frustrated with cheap ratchets that get contaminated and stop working? This ratchet also comes with a sealed head to keep vital lubricants in, and keep contaminants out, for a longer lifespan of work.
Finally, this ratchet features a soft grip contoured handle for comfort and control, especially important when performing repetitive tasks with a tight grip.
The 3/8" Dual 80® Technology Soft Grip Multi-Position Head Ratchet comes in 3 colors:
FH80MP (Red)
FH80MPG (Green)
FH80MPO (Orange)