Snap-on CTECH aluminum electronic torque wrench
The new ControlTech (CTECH) Aluminum Electronic Torque Wrench from Snap-on Industrial is lightweight yet durable.
---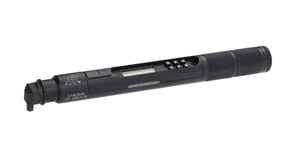 Designed for precise and frequent use, the CTECH Aluminum is the perfect lightweight, durable and reliable torque wrench for technicians, particularly applicable in aerospace where its 12-240 In. Lb. range is widely used. At just one pound, the weight is comparable to mechanical micrometer torque wrenches, yet the CTECH provides instant feedback on the exact torque actually applied – something mechanical wrenches can't do.
Key performance features of the ControlTech Aluminum Electronic Torque Wrench deliver significant benefits:
Torque and angle combo modes provide the most accurate and fastest way to achieve torque, plus angle, in a single motion
Built in calibration factor for different extensions and adapters
Control torque accuracy to +/- 2% clockwise, +/- 3% counterclockwise
Dual side LED indicator lights with configurable settings provide operational guidance
Easy-to-read LCD screen, LED indicator lights; audible beep and handle vibration work together to signal when torque is within the targeted range
Dual 80 technology provides precise yet strong ratchet function with minimal ratcheting arc and very little lost motion, allowing you to ratchet in tighter areas
Additional features of the ControlTech Aluminum Electronic Torque Wrench include:
Time-based calibration indicator
50 memory presets with batch count; presets can be locked to prevent inadvertent changes
Fully programmable for reliable, consistent, repeatable torque application
Sequence programming and job mode
High capacity memory for storage of 1,500 readings
Time stamped data trail for quality control, job auditing and torque verification
USB plug and play technology allows data download without additional software
Selectable languages include English, Spanish, French and German
Industry-leading two year warranty