Snap-on Level 5 Automated Tool Control
Snap-on Industrial's Level 5 Automated Tool Control (ATC) toolbox can now be powered by on-board rechargeable batteries.
---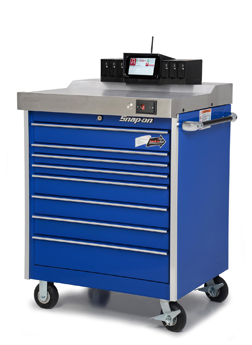 The Level 5 ATC is Snap-on Industrial's most advanced toolbox, using digital imaging technology and proprietary software to monitor and track tools as they are removed and returned – all in real time. The box is ideal for numerous applications, such as aerospace, natural resources and manufacturing where minimizing foreign object damage and maintaining asset management is critical. But with this new design of using rechargeable batteries, the Level 5 ATC and be moved closer to where the work is being performed, greatly improving productivity and saving time and money.
Six rechargeable, interchangeable batteries provide up to 16 hours of battery life, enough for two shifts, and the batteries can be fully recharged in three and a half hours using the ATC's internal charging system when the box is plugged into an AC outlet. A hot-swappable feature allows a technician to replace an existing battery with a fully charged one without affecting productivity.
The Level 5 ATC monitors battery life, and informs the technician when batteries are low on power through both a visual and audible alert.
Features and benefits of the Level 5 ATC with on-board rechargeable batteries include:
Designed for both the 36-inch or 54-inch ATC platforms
State-of-the-art circuit protection to prevent overload
Optional, stand-alone battery charger able charge up to six batteries in four hours
Extra batteries available either individually or in a set of six
Available in five colors
Available in six, seven, eight or nine-drawer configurations