Tec-Flon non-silicone lubricant
Solid Technical Solutions introduced a line of high-tech lubricant materials, Tec-Flon (GM-approved).
---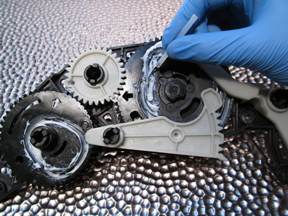 The Tec-Flon family of non-hydrocarbon, non-silicone, fluorinated oils and greases is designed specifically for use with plastics, in paint shops where silicones are not permitted, or in vacuum environments. The products remain effective when used for high-performance applications, even in high temperature settings.
Solid Technical Solutions' Tec-Flon materials meet or exceed the performance requirements of General Motors; and are well-suited for use in electronics, optics, aerospace, cleanrooms, and general assembly applications.