Posted July 25, 2016
SpillTech OverPack Salvage Drum Spill Kits
Spills happen despite every effort to avoid them. Forklifts knock over drums, tanks are punctured and transporters leak and drip. A quick response is the best weapon in the fight against spills.
---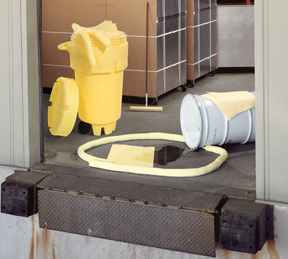 Whether it is a dangerous chemical spill or eliminating a slip-and-fall hazard, SpillTech Spill Kits can ensure any facility is prepared.
For quick leak and spill cleanup and to comply with spill plan regulations, SpillTech Overpack Salvage Drum Spill Kits contain a variety of high-quality sorbents to control spills of oils, coolants, solvents or water accessibly packed in an X-rated DOT- approved OverPack Salvage Drum.
Durable enough to withstand rough handling, the OverPack's twist-on, double-wall lid with closed-cell gasket provides sealed and secure closure to protect sorbents from moisture, dirt and damage during storage. OverPack Salvage Drum Spill Kits come in 20-, 30-, 50-, 65- and 95- gallon containers offered in varieties suitable for cleaning up universal, oil-only and hazmat spills.