Posted July 25, 2016
Spray Nine heavy-duty cleaner/degreaser
Permatex offers its Spray Nine Heavy-Duty Cleaner/Degreaser for use in a wide range of tough and hard-to-clean applications on heavy-duty commercial and industrial equipment.
---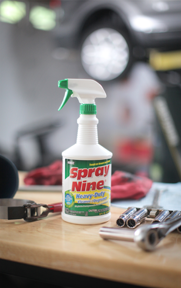 This tough task, all-in-one cleaner is extremely versatile and effective in removing dirt, grease, and tough soils from all types of equipment from off-road construction vehicles to farming and manufacturing equipment.
Unlike most cleaners, Spray Nine Heavy-Duty Cleaner/Degreaser delivers a "Triple Threat" by cleaning, degreasing, and providing the added benefit of disinfecting in one easy step.
As an EPA-registered disinfectant and NSF Level C1 Certified product, Spray Nine Heavy-Duty Cleaner/Degreaser is approved for use in food processing plants to clean and repair equipment. Spray Nine disinfecting properties also help control mold and mildew growth and kills viruses and bacteria in 45 seconds. Spray Nine is VOC compliant in all 50 states and does not contain petroleum or chlorination chemicals.
Spray Nine Heavy-Duty Cleaner/Degreaser is offered in a 22oz and 32 oz spray bottle, 1 gallon jug, 5 gallon pail, and 55 gallon drum.
The Spray Nine brand features an exceptional line of specialty cleaning products for both the industrial manufacturing and consumer markets, which includes Grez-Off, Earth Soap, Citrus Blaster, Glass & Stainless Steel Cleaner, Mold & Mildew Stain Remover, AV-8, and Poly Scrub Lemon Lime and Coconut Hand Cleaners.