Posted September 11, 2019
Spyder Products unveils new circular saw blades
Spyder Products is launching new circular saw blades that require minimal effort to cut through material.
---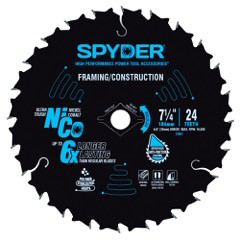 Equipped with nickel cobalt (NiCo) cutting teeth, alternating tooth bevel, and an anti-friction coat-ing, the Spyder blades are easier to use, safer, and provide up to six times the working life of conventional blades.
The 24 rugged and resilient NiCo teeth on the 7-1/4" blades are triple-sharpened to en-sure exceptionally clean cuts, making the new Spyder circular saw blades ideal for a variety of framing and construction applications. Unlike conventional blades, they in-clude an alternating tooth bevel that allows users to rip and crosscut with minimal ef-fort.
In addition to the specialized tooth design, polymer stabilization vents are engineered to reduce friction, noise, and vibrations, an innovation that any professional user will appreciate during a long day on the job. An interfused anti-friction coating protects the blade against heat, gumming, and corrosion - significantly reducing the effort required to move the blade through material and extending life on the job site.
Designed for use on circular saws with a maximum RPM of 10,000, Spyder's circular saw blade includes a 5/8" arbor with diamond knock out that makes it compatible with a variety of arbor styles.