Spyder bi-metal hole saws
Spyder Products recently introduced its Spyder Bi-Metal Hole Saws and TCT Hole Saws.
---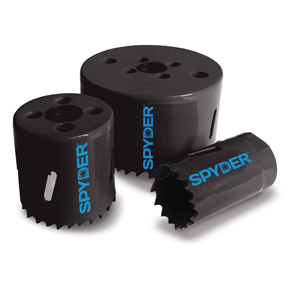 The new hole saws feature Spyder's new arbor system with Rapid Core Eject which makes extracting plugs as simple as pushing a button.
"Hole saw users told us their number one issue was removing plugs quickly after making cuts," says Ryan Campbell, general manager of Spyder Products. "Cores get stuck inside hole saw cups, and it's necessary to use a screwdriver or other device to extract them, a time-consuming, frustrating process. We designed our new holes to specifically address this frustration."
With Spyder's Rapid Core Ejection feature, users simply press a button and slide the blade back to remove the plug.
Spyder hole saws are also engineered to make cutting at an angle easy. By clicking and pulling the hole saw back, the pilot bit is extended enough to cut at an angle. In addition, Spyder's system allows users to enlarge holes that were drilled too small by using the smaller hole saw as a guide while a larger diameter saw makes the right cut.
The hole saws come in two forms: bi-metal steel with variable tooth pitch for fast and clean cut-outs and TCT (Tungsten Carbide) versions which cut five times faster than traditional hole saws and last many times as long.