Posted March 6, 2018
Stanley and Stanley FatMax Safety Knives
Stanley has introduced a new line of 16 Stanley and Stanley FatMax Safety Knives with concealed, auto-retracting, and spring-loaded blades to enhance cutting productivity, safety and convenience in fast-paced work environments.
---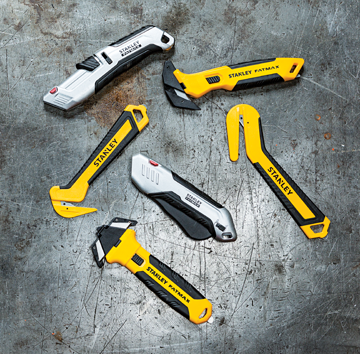 The new Stanley and Stanley FatMax Safety Knives offer features such as three blade depth settings to help protect contents, easy trigger squeeze to help reduce user strain as compared to thumb slide models, and blade locks to help prevent accidental blade exposure.
Stanley and Stanley FatMax Safety Knives are designed to help reduce the risk of cuts, lacerations and punctures that can occur during a variety of common applications, from cutting through corrugate and thick layered tape to cutting through shrink wrap and blade change out.
Concealed Safety Knives feature a completely recessed blade, which helps reduce risk of injury. Auto-Retracting Safety Knives feature a pressure-sensitive blade, which automatically retracts once disengaged from cutting surface. Spring-Loaded Safety Knives feature a spring-loaded blade, which retracts automatically when pressure on squeeze trigger or slide button is released. There are specialized box top safety knives, available in both right- and left-handed models, which include a box top guide with integrated tape splitter, to align the blade for easy box top removal.
More information, including details on the full range of cutting solutions, family video, electronic catalog, where to purchase and more, can be found by visiting StanleySafetyKnives.com.