Posted September 4, 2018
Starrett to display jobsite products at STAFDA
The L.S. Starrett Co. will be showing its jobsite products at STAFDA 2018 in Starrett Booth No. 623-625, located in the Phoenix Convention Center, Phoenix, October 28-30.
---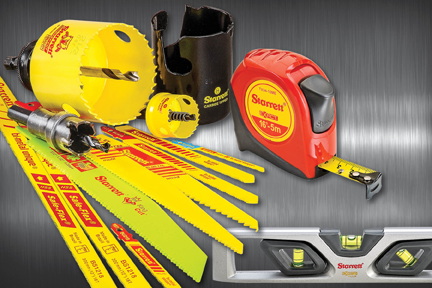 A new web-based PowerCalc program for recommending the correct Starrett Hole Saw, operating speeds, and power tool or machine for the application at hand, will also be demonstrated. Attendees are also encouraged to inquire about the special Starrett Pro Tools Promotion which is running from Sept. 24 - Nov. 30, 2018.
STAFDA attendees can see the latest Starrett power tools accessories including several saw products. The Starrett bi-metal unique Reciprocating Saw Blade Line includes straight and tapered shape general purpose blades, scroll cutting, plaster cutting and pallet dismantling blades, as well as King Cut rescue and demolition blades for heavy duty cutting. Exclusive Starrett bi-metal unique technology creates a stronger, longer lasting blade by joining two strips of high-speed steel wires to the backing steel using Solid-State Diffusion Bonding.
New Starrett Fast Cut Bi-Metal Hole Saws will also be featured at STAFDA. These saws combine a new tooth material for enhanced heat and wear resistance with a new tooth design for smoother, faster cuts on a wide range of materials when compared to constant pitch saws. Specifically suited to cutting stainless and mild steel sheet, the Fast Cut Hole Saws will also cut through tubes with a wall thickness of up to 1/8" (3mm).

New Starrett Deep Cut Hole Saws combine the tried and tested tooth form from the previous Starrett Dual Pitch product, with a new tooth material for enhanced heat and wear resistance. The Deep Cut saw also features an increased hole saw depth of 2" (51mm,) and is ideal for cutting metal of more than 3mm thickness, tubes with a wall thickness of greater than 3mm and wood up to 2" (51mm) thick.
A new web-based Hole Saw PowerCalc program that recommends which bi-metal, carbide tipped, diamond grit or arbored hole saw is best suited for an application will be demonstrated at the show. Input parameters include specifying the material to be cut, the hole diameter and thickness. Printable results display the Starrett hole saw item number with a link to the product, as well as a recommendation for the proper operating speeds and power tool or saw machine.
Tungsten Carbide Tipped Multi-Purpose Starrett Hole Saws which power through wood, MDF, plastics and plasterboard will also be featured. Cutting speeds are up to five times faster than a bi-metal hole saw cutting the same material. Carbide tipped teeth offer outstanding cutting performance, longer life and product durability.
Starrett Hacksaw blades, available in bi-metal unique high speed steel Safe-Flex as well as Grey-Flex High Carbon Steel, are ideal for contractors looking for a fast cutting and long lasting solution. Starrett also provides Hacksaw Frames in open or closed grip, high tension, and heavy duty designs.
Hand Tools from Starrett on display at STAFDA will include the latest long and short line measuring tapes and Measure Stix, a variety of layout tool, levels, chalk boxes, M1® industrial lubricant and many other professional contractor tool solutions.