Posted October 16, 2018
Starrett electronic digital height masters
The L.S. Starrett Co. introduced its Digi-Check Height Masters with electronic digital readout.
---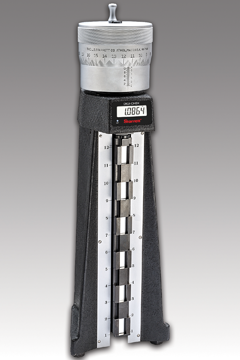 The new Digi-Check No. 258 Series Height Masters combine the accuracy of Starrett-Webber Gage Blocks with a precision micrometer head and digital readout display. Highly accurate, stable, easy-to-read and American made, Digi-Check Height Masters provide an ideal reference setting for checking bore gages, inside micrometers, end measuring rods and other gages, and height measurement of parts. For more details on Starrett Digi-Check No. 258 Height Masters, click here.
Featuring the rigid and high precision Starrett design that QC inspectors, toolmakers and machinists have relied on for years, the new Digi-Check Height Masters now have a large, easy-to-read electronic digital display providing instant readout to .0001" or 0.001mm. In addition, a graduated satin chrome finished precision micrometer head with speeder knob for fast positioning, provides staggered graduations reading to .0001" or 0.002mm. Both the micrometer head and digital readout are directly in line with the operator's vision. The Digi-Check gage's housing within a heavily flanged frame and base featuring three-point hardened, ground and lapped bearing pads, contributes to an exceptional accuracy of +/- .0002" (+/- .005mm) and makes the gage highly stable. Gage blocks are assembled in a free-standing system isolated from the frame, allowing the blocks to conform to the workpiece temperature. Accuracy is further enhanced via a one-piece micrometer spindle with hardened and stabilized measuring threads.
Both over and under heights on Digi-Check Height Masters can be checked directly from the gage blocks in a single setting, and with reference surfaces on the top and bottom of each block, adjacent blocks are in the same plane. Readings can also be taken from either left, center, or right of the gage block column. The column design also permits wringing a 1" block between two blocks in the column – convenient for setting and checking other gages.
Starrett Digi-Check No. 258 Height Masters are offered in three ranges: .100" – 12.100", .100 – 18.100", or.100 – 24.100". Metric models are also offered in three ranges: 2 – 302mm, 2 – 452mm, or 2 – 602mm. Gages are furnished in finished, fitted wood cases. Height Master accessories such as Starrett Reverse Reading Blocks and Riser Blocks are also available.