Stellana Rmax natural rubber tires
Stellana US Inc. announced the release of Rmax natural rubber industrial tires for IC and Electric lift trucks.
---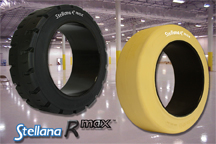 The unique rubber compound is highly resistant to chunking and tearing and has a high load carrying capability. Rmax tires are designed with an innovated TAP, Turning Assist Profile, to promote ease of turning and reducing driver fatigue. They are available in smooth and traction versions and a white non-marking tire is a standard option.
A part of the Wheels Group within HEXPOL, Stellana US Inc. is located in Lake Geneva, Wis., and is the only global supplier of high quality polyurethane, rubber and nylon wheels and rubber tires to the OEM and the aftermarket. Stellana's worldwide headquarters and manufacturing operations are in Laxa, Sweden with additional manufacturing facilities in the USA, Sri Lanka and China.