StoneBreaker Trades Gloves
Every pair of StoneBreaker gloves is constructed of the highest-quality materials, from the leather to the thread, which provide better protection and longer life while providing a "second-skin" fit.
---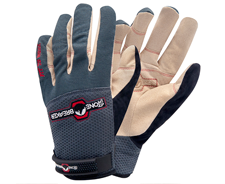 "StoneBreaker Work Gloves were born out of a desire to simply create a better work glove. The entire Fit To Work concept is about a pattern whereby the material is cut and sewn to better fit the hand," said Heath Mathias, president of StoneBreaker. "Whether it be strategically place reinforced material for high wear points or padded protection where it is needed, StoneBreaker has gone beyond the standard and provided features that matter, where they matter most."
All of the products feature:
Patent pending "Fit to Work" construction that gives a snug fit which improves dexterity, holds its shape, and doesn't require a "break-in" period
High-quality leathers and breathable synthetics deliver real protection, all-day comfort and longer glove life
Double stitched seams to protect against rips and tears
20% stronger thread to withstand tough use
Extra padding is needed the most for serious, targeted protection without the bulk
Extended cuffs, superior Velcro closures, or both, giving added coverage and seal
The Trades Line is composed of the MasterSmith, NailBender and Demo gloves.
The MasterSmith features multiple areas of reinforced padding and added leather patches. The back includes a breathable spandex area that has two-way stretch qualities. This provides a "snap back" effect after you put it on and ultimately allows the glove to hold up better in day-to-day wear. The shell consists of 22 separate pieces so the leather conforms to the hand and won't bunch up at the palm.
Additionally, there is a hex nut grommet and an enhanced strap for a more secure fit. It also features a hex nut reinforced hole/grommet that is designed to solve the problem of the disappearing glove due to separation, falling out of a pocket, etc.
The NailBender is designed for all-purpose, light-duty work where dexterity is important. To accomplish this, StoneBreaker integrated articulated double-stitched fingers to withstand most tasks, yet allowing users to naturally bend fingers without the materials bunching up at the knuckles.
The .5mm synthetic leather palms add protection while the breathable, stretchy mesh back provides for added comfort during hot and humid conditions.
The Demo glove is the most specialized and toughest of the three. It features two layers of rugged split cowhide shell to provide extra protection against sharp edges, seamless shock-absorbing padding to provide added comfort while standing up to the toughest rigors, and reinforcing leather patches to provide extra protection professionals need it most.