Posted May 26, 2020
Streamlight launches Vulcan 180 HAZ-LO lantern
Streamlight introduced a Class 1, Division 1 safety-rated lantern in its Vulcan series for use in hazardous environments faced by many first responders.
---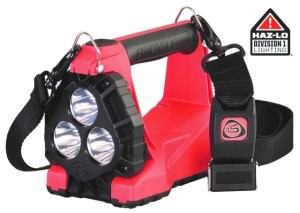 Lightweight, compact and waterproof, the Vulcan 180 HAZ-LO features a 24-hour run time on low, 180° articulating head, and two ultra-bright blue taillights for visibility in thick smoke.
"The Vulcan 180 HAZ-LO is an extremely bright lantern with rear taillights, designed to enable firefighters to operate safely in difficult environments, whether from smoke, inclement weather or other hazards," said Streamlight Vice President, Sales and Marketing, Michael F. Dineen. "With its 180° articulating head, first responders and other users can aim the light beam precisely where it is needed for task lighting purposes. And because it is powered by a lithium ion battery, it is one of the lightest-weight lanterns in its category."
Featuring a triangular-shaped face cap and rotating head, the Vulcan 180 HAZ-LO uses three white power LEDs for extreme brightness. Three deep-dish parabolic reflectors produce a tight spot beam with optimum peripheral illumination to aid in navigation, while two ultra-bright blue LEDs illuminate the lantern's taillights. It delivers 400 lumens, 25,000 candela, a 316-meter beam distance, and a run time of 10 hours on the high setting. On low, it provides 130 lumens, 8,000 candela, a 128-meter beam distance, and a run time of 24 hours.
The light's rotating head tilts 180°, and features a locking mechanism to lock it in the upright position. The lantern's large handle enables smooth handoffs even with gloves, and offers a nonslip grip for easy carrying. Powered by a rechargeable 7.8Ahr lithium ion battery, the Vulcan 180 HAZ-LO fully recharges in 15 hours. Its quick install charge rack fits the same footprint as other lanterns in both the Vulcan and LiteBox series.
The light is encased in a durable, super-tough nylon, and is 7.43 inches long and 4.36 inches high. The Vulcan 180 HAZ-LO weighs only 2.45 pounds with the battery. It is IP67-rated for waterproof operation to one-meter submersion and also floats.