Posted April 18, 2017
Stronghold Coatings on-site repair material
Stronghold Coatings introduced MM1018, a polymeric metal material that provides 100% force fit gap compensation for the repair of process equipment and structures.
---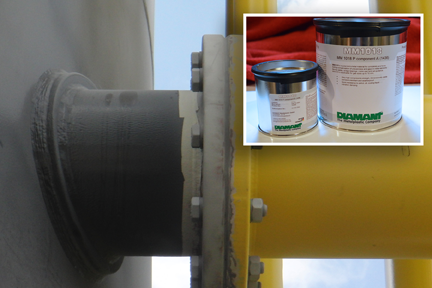 It also can be used on railways, steel bridges, power plants and utility construction projects, offshore drilling rigs, wind turbines, and other demanding high-load, critical environments. This high performance repair product provides 100% volume restoration inside the gap between bearing and construction without machining of back plate and face plate. It combines high compressive and shear strength, excellent vibration damping, and long-term corrosion protection in extreme service conditions (vibration, temperature extremes, etc.), and is resistant to weathering and aging, as well as gasoline, oils, coolants, acids, lye and more. It is easily applied onsite, even at height, using casting or injection. This allows significant repair cost savings versus conventional disassembly/rebuild methods. It is ideal for process piping, process equipment, and other critical in-plant structures.
MM1018 was originally developed in Germany for the repair of steel and steel composite bridges, where materials are subject to the highest loads and stresses. More than 1000 bridges worldwide have been repaired using this proven technology. Ideally suited for use in corrosive saltwater environments like on oil rigs, offshore wind farms, canal water gates, and other corrosive environments.