Red-Dot Code Keeper
The new Red•Dot Code Keeper Extra-Duty Non-Metallic Weatherproof While-In-Use Cover from Thomas & Betts (T&B) simplifies compliance with National Electrical Code (NEC) requirements for receptacles in wet locations.
---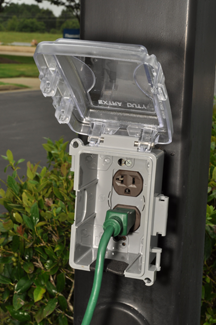 The NEC Sections 406.9 (B) (1) and 590.4 (D) (2) now require that extra-duty outlet while-in-use covers must be installed in all wet-location applications. The new cover also complies with NEC Section 406.9 (B) (1) for unattended in-use plugs for wet locations.
"Besides providing a receptacle cover that complies with the current NEC requirements, the Red•Dot Code Keeper Extra-Duty Non-Metallic Weatherproof While-In-Use Cover is made to endure the stress of rough treatment," said Chad Smith, vice president, product management and engineering, at Thomas & Betts. "The cover features a stainless steel hinge pin that is designed to withstand frequent handling. In addition to its durability, it is compatible with several configurations, which enables installers to simplify and reduce the number of covers they must keep on hand."
The cover comes preconfigured for GFCI receptacles, but includes adapter plates to accommodate single, duplex and switch configurations. Single- and two-gang configurations are available with 2 7/8- and 4 ¼-inch deep covers; single-gang configurations are also available with 2 ¼-inch deep covers. All sizes of single-gang configurations are available as either vertical or horizontal. The cover also is available to accommodate almost every common plug and cord size.
The new cover complements the metallic extra-duty while-in-use cover released in 2012, providing the Red•Dot brand with a comprehensive line of covers that meet all pertinent NEC requirements.
The cover ships with adapter plates and pre-mounted gaskets. It features keyhole mounts that enable the cover to be slid over loosened existing device screws for quick and easy mounting. The combination box- and device-mounting design provides flexibility in installation. Lockable covers comply with OSHA lockout/tagout requirements. A wasp guard to keep out pests is also included.