TASK Tools launches three new products
TASK TOOLS introduced new Bar Clamps, Portable LED Work Light and additions to the TASK Signature Sandpaper lines.
---
Bar Clamps & Spreader
The new TASK F300 Heavy Duty Bar Clamp and Spreader is capable of exerting up to 300 lbs of force. They are easy to use with one hand as they have a unique spring mechanism that provides smooth superior performance. The quick release lever makes it easy to change over from clamping to spreading. Other great features include the large, non-marking, V-Groove jaws that provide a firm grip and the non-slip handles for comfort. Clamps are available in four different sizes, ranging from 6" to 36".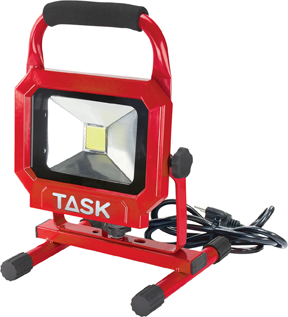 Portable LED Work Light
TASK Portable LED Work Lights are super bright and use less power than traditional halogen work lights. With 50,000 hours of bulb life, they last longer and are five times more energy efficient, which pays for itself in less than a year with regular use. They are also weather proof and rugged enough to use outdoors. They stay cool to the touch and at 4 lbs they are easy to move. With 120 degree tilt adjustment and a brightness of 1670 lumens, these lights illuminate any hard to reach surface.
Heavy Duty Sandpaper & Non-Clog Drywall Sandpaper
The new TASK Signature Heavy Duty Sandpaper line outperforms and outlasts competing brands. With an anti-static coating that prevents clogging even in high-speed machine applications and the extra thick F-weight backing makes this paper highly tear resistant and durable in the toughest applications. The TASK Signature Heavy Duty non-clogging Drywall Sandpaper has a significantly higher rate of stock removal and less clogging for a longer life. Made of high-grade aluminum oxide that can be used wet or dry it can also be used on a broad range of other applications such as painted surfaces, wood and metal.