Three new Task Tools accessories
Task Tools expanded the Task Quick Support Rods (QSR) program with three new accessories.
---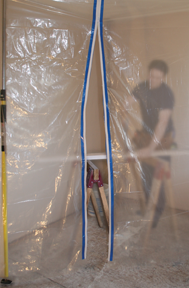 QSR Dust Containment Door Kit - Made from heavy-duty 6mil fire retardant poly, this double zipper slider door is designed to contain dust thermals in minutes. It can easily be opened from either side with one hand and has the capacity to create barriers on doors that are up to 8' high x 4' wide.
Dust Containment Tape – This double sided tape secures tarps or poly sheeting to surfaces such as wood, glass, aluminum, plastic, vinyl and painted surfaces. The clear poly tape adhesive side aggressively bonds and holds sheeting materials in place and the masking tape adhesive side can be cleanly removed from surfaces for up to 14 days.
18" QSR Extension – This extension gives an existing QSR an extra 18" to cover a wider range of heights.