TASK Tools Impact Driver Bit Program
TASK Tools expanded its impact driver bit program.
---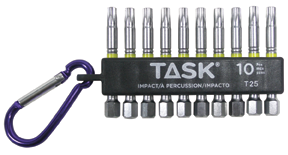 The TASK Impact Driver Bits are milled from a proprietary modified S2 steel and have an integrated color-code ring that is securely fixed to the bit shaft, ensuring that it doesn't come lose or fall off. Incredible hardness, high strength, and unique geometry make these the longest lasting impact driver bits on the market today.
New additions to their award-winning and cutting-edge IMPACT Driver Accessories Program:
New Torx IMPACT Bits
New Phillips IMPACT Carabiner Clips
New Bulk Robertson IMPACT Bits