Techspray ForeverSolv solvent reclaim program
Techspray's new ForeverSolv solvent reclaim program makes it possible to recycle and reuse vapor-degreaser cleaning solvents.
---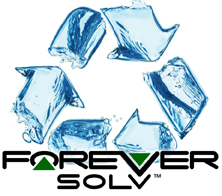 This eliminates the need for expensive waste disposal, and reduces the material cost 10-20% compared to original solvent prices.
As an added advantage, per EPA exemptions, reclaimed AK-225 can continue to be used even after the 2015 phase-out date (for details, read "Facts About 2015 HCFC-225 Usage Ban," by Lindsey Shehan, www.ak225ban.com). This gives companies using AK-225 in their vapor-degreasers piece of mind as they evaluate replacement solvents.
Techspray offers the ForeverSolv program throughout the continental U.S. for AK-225 and Techspray's own Precision-V vapor-degreaser formulas. Users can continue to enjoy the advantages of this program even after their AK-225 stock has been depleted by reclaiming Precision-V, a line of replacement solvents that are non-ozone depleting and have no phase-out date.
The ForeverSolv program is designed to be a hassle-free process. Techspray picks up the dirty solvent and drops off cleaned solvent a month later. The tightest tolerances are maintained throughout the process. Techspray certifies every drum provided back, and includes a certificate of analysis (COA).
Two quality grades are offered in the ForeverSolv program: Reclaim Grade and Top Grade. For Reclaim Grade, a distillation process is used to remove water, oils and solids (e.g. flux resin, particulates). For Top Grade, the same distillation process is used, but then solvent is added to rebalance to within 1% of original specifications. Reclaim Grade is the best value for non-critical applications like general metal cleaning. For high precision applications, Top Grade still offers cost advantages, but maintains tighter tolerances and allows companies to reclaim over-and-over without degradation.