Kopex-Ex ISR Fittings
Kopex-Ex ISR Fittings, new from Thomas & Betts (T&B), feature an integral clamping mechanism that enables the industrial strain-relief fittings to comply fully with the International Electrotechnical Commission (IEC)'s pullout requirements without external clamping.
---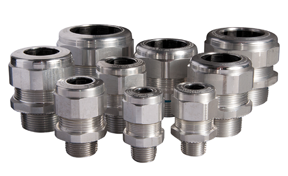 "The integral clamping mechanism in the Kopex-Ex ISR Fitting was designed in response to industry end users who were looking for a quicker and easier way to install strain-relief fittings," said Ralph Donati, product marketing director at T&B. "Most strain-relief fittings are designed to meet only 25 percent of the IEC pullout requirements, leaving the installer to provide additional clamping where the cables exit the enclosure, so that pulling and twisting won't affect the terminations. By eliminating this step, Kopex-Ex ISR Fittings simplify installation, which results in reduced installation time and cost."
Kopex-Ex ISR Fittings are strain-relief fittings for use with tray cable, portable cords and other unarmored cables for industrial applications, including drill rigs in the oil and gas processing industry. They are IEC Ex, ATEX, CSA and UL certified.