Posted June 29, 2021
Tilman TrueFit Glove
Tillman introduced the 1477 Mechanics-style, TrueFit glove designed to help reduce workplace injuries.
---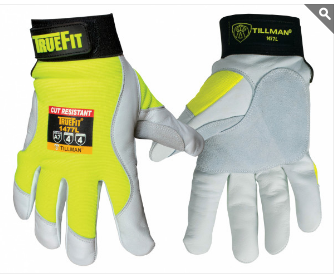 Tillman TrueFit gloves are slightly undersized to deliver a "true fit" on your hand, offering the perfect combination of comfort and protection.
The 1477 combines top-grain goatskin on the palm and fingers with a breathable, safety yellow spandex, keeping hands cool and comfortable. On the palm, there's a rough-side out, double goatskin layer, for a great grip, while protecting high-stress areas of the hand. Tillman uses only the finest quality goatskin, known for its exceptional abrasion-resistant properties, with high tensile strength. An elastic cuff with a hook & loop closure ensures a secure fit.
The 1477 offers ANSI A7 (American National Standards Institute) cut resistance on the palm, back of hand, and fingers, with Para-Aramid lining construction. Para-Aramid is a highly regarded synthetic polymer used to create bullet proof body armor fabric, found in high tech and military garments and equipment.
The glove has both an ANSI Abrasion and Puncture resistant rating of Level 4. Together, the cut, abrasion and puncture resistance mean the 1477 gives outstanding performance in environments where sharp materials and surfaces are present.