Timken unleashes PantherXT
The Timken Company introduced its new PantherXT synchronous drive system.
---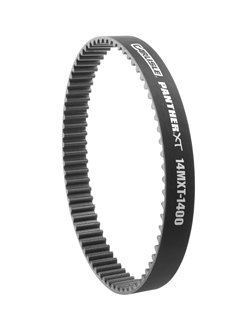 An alternative to chain or a drop-in replacement for polyurethane belts, PantherXT belts are formulated for enhanced performance and strength.
PantherXT belts are made of high performance HSN rubber composite designed for high torque transmission, flexibility and extended belt life as well as oil and heat resistance. PantherXT belts also feature a high modulus carbon fiber cord to increase durability and reduce stretch. A high-strength, low-friction fabric facing is engineered for maximum wear and abrasion resistance.
Available in 8mm and 14mm pitches in standard widths, PantherXT belts offer superior performance in Martin MPC sprockets (now available with Carlisle belts) and can drop into existing Poly Chain GT 2 sprockets. PantherXT belts also allow narrower drive widths, which reduce overhung bearing loads and overall drive cost.