Posted June 28, 2019
Titan improves SprayRoller and Inner-Feed Roller
Titan has made improvements to its SprayRoller and Inner-Feed Roller systems with innovations that make spraying with back-rolling and inner-feed rolling easier and more efficient.
---
Designed for paint and protective coating contractors, these products make completing jobs faster while eliminating messy roller trays and screens. In conjunction with reach tool accessories, they can also reduce fatigue and injuries with less ladder climbing.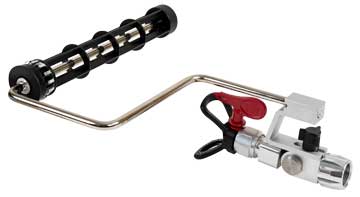 New Titan SprayRoller
For jobs that require spraying with back-rolling, Titan's new SprayRoller (2404013) combines the two steps, so one contractor can do the work of two. An upgraded design makes spraying and back-rolling in one motion easier and smoother. This reduces overspray, provides a roller-finish and minimizes touch-ups. It's also easy to use, so even novice contractors can get up-to-speed quickly and achieve a professional finish.
Designed to increase productivity, the new Titan SprayRoller requires minimal setup and can be used with any brand airless sprayer and/or extension pole. It accommodates standard nine-inch roller covers and SprayRollers can be purchased separately, or with a SprayGuide and/or extension pole. As part of a complete system for painting flat walls, corners and edges, the SprayRoller and SprayGuide operate on the same swivel, so it's easy to switch tools. It replaces Titan's current SprayRoller (310-049).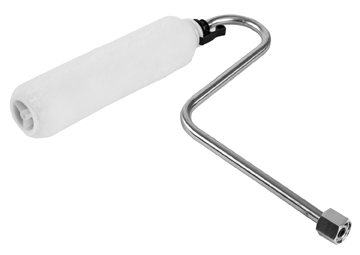 New Titan Inner-Feed Roller
For high-production jobs where spraying is impractical, this new Inner-Feed Roller (2406191) from Titan achieves a quality finish up to four times faster than when using standard rollers. The design has been simplified and now includes only three parts, making it easier to use and clean. Pumping paint from the sprayer to the roller, it eliminates the constant need to remove the roller from the wall to get more paint from a paint tray. When the roller starts to get dry, the contractor simply triggers the paint gun to apply paint to the roller cover. This smooth process provides a consistent paint mil thickness and eliminates dry edges.
The new Inner-Feed Roller can to be used with any brand airless sprayer and/or extension pole and uses nine-inch perforated roller covers. It replaces Titan Inner-Feed Roller systems 310-934, 310-150 and 310-950.
"These new roller systems feature innovations that help contractors complete jobs faster and with better results when rolling is required," said Chris Noto, product director for Titan. "Combined with accessories like SprayGuides and reach tools, they can also lessen time required for masking and reduce fatigue for contractors and their crews."