Posted August 18, 2016
Titan RX-80 airless spray gun
Titan continues to redefine airless spraying with the introduction of the RX-80 airless spray gun.
---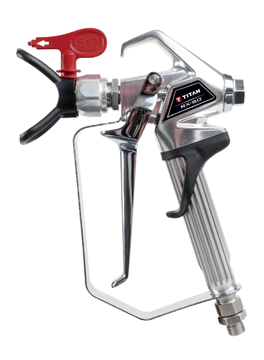 The new RX-80 is a professional airless spray gun rated for 3,600 PSI, providing paint contractors with more durability and performance.
For better ergonomics and handling, the RX-80 features Titan's exclusive Comfort Grip™. It features a new and improved swivel, two- and four-finger triggers, and a lighter trigger pull. With better optimized fluid passage, the RX-80 provides paint contractors with improved performance and longer gun life. For easier cleaning, the wrench is built into the trigger guard. The RX-80 has an updated, rugged design and replaces the Titan LX-80 and G-10XL spray guns.
The RX-80 joins the RX-PRO to complete the Titan Red Series line of spray guns. The RX-PRO is a premium airless spray gun with advanced ergonomic features that enable paint contractors to spray longer with more comfort than ever. It features an ultra-light trigger pull that decreases operator fatigue, requiring 30 percent less force than the closest competitive gun. Additionally, it has three interchangeable grip sizes to fit any paint contractor's hand size. The RX-PRO is outfitted with Infinity Packing, making rebuilding is as easy as reversing the seat and changing the ball, doubling the life of the gun.
The new Titan RX-80 works with any brand of paint sprayer with maximum pressure ratings of 3,600 PSI. It comes standard with the industry's best performing Titan TR1 tip.
"The new RX-80 airless gun is an important addition to the Titan Red Series," said Chris Noto, director of products for Titan. "With a lighter trigger pull, more comfort features, and a better optimized fluid passage, this upgraded gun will quickly become standard equipment for thousands of paint contactors."