Tweco ArcMaster power sources
Tweco, an ESAB brand, introduced the ArcMaster 401MST (MIG-Stick-Lift TIG) and ArcMaster 401S (Stick-Lift TIG) power sources.
---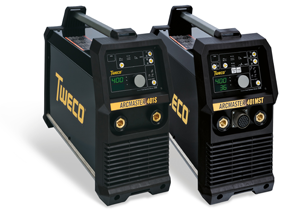 They offer best-of-class performance in on-site and portable welding applications, the company says.
These units have a 10- to 400-amp output and provide superior welding performance, especially with cellulose 6010 electrodes and MIG and flux cored wires (401MST). A rugged case protects the units from a 3-ft. drop and take up 50% less space than welders with similar outputs; the units measure 16.5" x 8.3" x 17.7". The ArcMaster 401MST weighs 54 lbs. and the ArcMaster 401S weighs 46 lbs., both about 40% less than competitive welders.
Automatic primary voltage selection with no mechanical changeover enables the unit to operate off single- or three-phase power, 208-230/400/460 VAC. Combined with 20% better energy efficiency and strong performance when connected to generator power, the ArcMaster 401MST and 401S are ideally suited for use in the following markets: industrial fabrication, power generation, pipe fabrication, shipboard installation and repair, petrochemical fabrication, maintenance and repair and rental.
In addition to adjustable Stick Arc Force and Hot Start control, both units feature dedicated modes to optimize performance for specific processes, including 6010 electrodes, 7018 electrodes and air carbon-arc gouging with carbons up to 3/16". The ArcMaster 401MST also features optimized modes for using 100% CO2 or mixed shielding gases, as well as adjustable inductance control to increase arc stability and reduce spatter. A "Job Save & Load" function allows operators to store and recall up to 10 sets of optimized welding parameters. The ArcMaster 401MST works with all common wire feeder platforms.