United Abrasives / SAIT Ultimate Combo
United Abrasives Inc. / SAIT has just released The Ultimate Combo.
---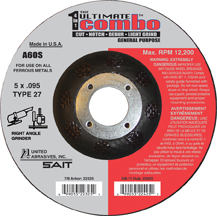 This new .095" category allows users to safely perform four applications with just one wheel. The Ultimate Combo can cut, notch, debur and light grind without a single wheel change and is available in A60S General Purpose and Z-Tech High Performance. By performing four applications with this one wheel, The Ultimate Combo will increase productivity, reduce abrasive costs, and decrease down time with fewer wheel changes.