United Abrasives/SAIT TrimBack
United Abrasives/SAIT launched a new trimmable flap disc made in the U.S.A.
---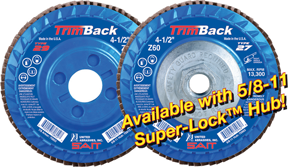 The TrimBack is contaminant free and made with premium zirconium grain on a durable polyester-cotton backing providing long life on Stainless, Metal, and Aluminum.
The specially designed trimmable ABS plastic allows you to easily trim away the back of the disc to expose more abrasive material.
The Unique 5/8-11 Hub Design is built for Safety & Ease of Use requiring no machine flanges while also heat and strip resistant due to the metal threads.