Posted July 29, 2016
Vermont Indexable Tooling LS Boring Bars
Vermont Indexable Tooling announced the release of its patent pending LS Boring Bar line.
---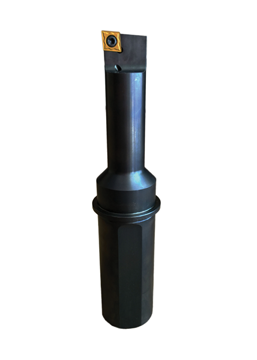 These boring bars are equipped with a CNC shank and overall geometries that are designed to bore through a multitude of materials. Pair them with VIT's standard ISO inserts and the result is a superior quality product at an outstanding price. Features include:
Reduced Set-up Time
Rigidity
No Tolerance Stack
No Bushings Required
Coolant Style Standard
Pipe Tapped
Modified Standards (3-5 Days)
LS Series Boring Bars are built using an integral, rigid, harmonics reducing design, equipped with a coolant style CNC shank, and geometries designed to bore through a multitude of materials.These bars do not require bushings and offer reduced set-up time as well as no tolerance stack. Additionally VIT accommodates custom orders, and a modified standard can be available within 3 to 5 days.