Posted April 8, 2022
ENDURO-FLEX TURBO flap discs
WALTER Surface Technologies introduced a new Type 29 flap discs designed to help end-user work better and faster.
---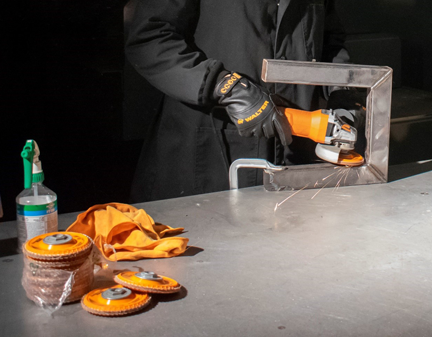 The new Type 29 ENDURO-FLEX TURBO is ideal for contoured and edge work applications. It provides the fastest removal rate in the industry.
With a higher ergonomic angle of attack, the new Type 29 flap disc allows for a fast removal rate best suited for heavy-duty applications such as blending contours, edge work, as well as other finishing applications.
"We wanted to offer our customers the fastest removal rate of the ENDURO-FLEX TURBO in a new Type 29 to answer their need for aggressive stock removal when working with irregular workpiece surfaces. This helps metalworkers do their job more efficiently, comfortably and with less fatigue" says Cedrik Rochon, R&D Engineer, Finishing Solutions.
Thanks to a unique dual grit 36/60 which removes material quickly and leaves a paint-ready finish. Made from premium self-sharpening ceramic grain, it provides a fast removal rate. The patented Turbofan design minimizes heat transfer to the surface which increases the disc life. By funneling in air, it keeps the workpiece cooler, reduces discolorations & improve discs durability.