Posted June 17, 2020
New micro drill from Walter
Walter has unveiled the new Supreme DB133 solid carbide micro drill with internal and external coolant capabilities.
---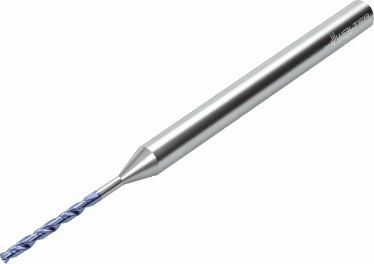 These new drills are key to establishing precise, reliable working processes and achieving significantly longer tool life in steel, cast iron and nonferrous materials (ISO P, K and N workpiece groups).
The use of Walter grades WJ30EL and WJ30ER specifically for micro drills, ensures that the drills exhibit superior wear resistance. In addition, the new cutting-edge geometry increases process reliability and optimized dimensions allow for maximum stability, even with the smallest drills. The uniform finish on the drill cutting edges and tight tolerances ensure that the surface finish of the drilled holes is excellent.
With the special flute geometry, the chips (swarf) are evacuated effectively. This means that hole depths of up to 12 x Dc can be easily achieved. Oil or emulsion can both be used as a coolant with these drills. For deeper holes beyond 8 x Dc, Walter has also introduced a corresponding line of pilot micro drills, the DB131.
The new DB133 drills, with their 140° point geometry, are available in diameter range from 1/32-5/64 in. and 0.5 to 2.95 mm. Length to diameter ratios (L/D) of 5, 8 and 12 x Dc are standard. This new drill design will be of interest to users in general manufacturing, mold and die making, medical, energy and automotive industries and any other areas where small diameter, deep holes, are required.