Walter Titex X-treme DM micro drills
Walter has expanded its line of Walter Titex X-treme DM high performance micro drills with eight new models, in drilling depths ranging from 2xD to 30xD.
---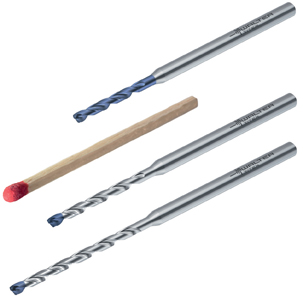 Thanks to advances in carbide technology, special coatings and design, these new drills are able to outperform conventional micro drilling tools.
Traditionally gun drills have been predominate over twist drills in micro drilling (i.e., drilling holes with 3 mm dia. or less) applications. Due to micro drilling's high toughness requirements, twist drills could only be manufactured from high speed steel (HSS). As a result, cutting speeds and feed rates were low, the holes had to be constantly cleared of swarf, and process reliability left much to be desired. However, special carbide grades with a high level of toughness are now available which allow the manufacture of thin, long twist drills capable of high cutting parameters.
Walter has equipped its X•treme DM line of micro drills with an array of performance enhancing features, prime among them being internal cooling.
Other features include optimized point geometry with special cutting edge preparation and flute geometry to ensure superior chip formation. These drills also feature special aluminum-titanium nitride coatings that counteract wear and increase tool life and are suitable for ISO material groups P, K, M, N, S and H. These drills can even micro drill titanium in some applications.
Walter Titex X•treme DM micro drills are designed to drill a hole in one operation without pecking, which is another factor in their superior process reliability. Features and benefits like these combine to deliver productivity increases in the 50-100% range.