Walter Blaxx milling cutters
Walter has expanded its line of Walter Blaxx milling cutters with the F5138, the first helical flute cutter in the Blaxx family.
---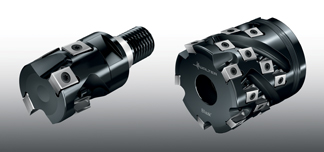 Bearing the distinctive glossy black surface of the Blaxx family that protects it from corrosion and wear, this new model achieves profiling and shoulder milling feed rates far in excess of those achieved by conventional cutters. Blaxx is ideal for work in steel, stainless steel, non-ferrous metal, difficult to cut material, or cast iron.
The new F5138 helical flute cutter includes four-edged, tangential indexable inserts made from Walter Tiger•tec Silver high-performance cutting material and manufactured using the latest carbide technology. The inserts are positioned in the cutter to ensure there is a large mass of carbide in the direction of the cutting forces. Thanks to the design of the insert seat, the tool body has a reinforced core, benefitting from an extremely large material cross-section. The resulting robustness enhances the stability of the cutters.
Additionally, the inserts' helically positioned cutting edges with free-cutting geometries and excellent concentricity reduce cutting forces and vibration, enhancing stability, surface finish and quality.
With four available grades, ranging from very hard to very tough, users can select the optimum grade for their workpiece: Grades WKP25S and WKP35S for steel and cast iron, or WSM35S and WSP45S for stainless steel and difficult to cut materials.
The F5138 diameters range of 1 ½ to 3 inches (40 to 80 mm) with two different cutting lengths per diameter. Optional internal coolant supply to all cutting edges is also available. The tool is equipped with the same indexable insert system as the F5141 shoulder mill. Consequently, users can use one insert size for both tools.