Three new SURFOX options
Walter Surface Technologies announced three new solutions to its SURFOX line of electrochemical weld cleaning systems.
---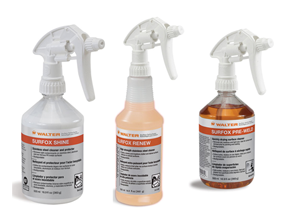 The SURFOX PRE-WELD, SURFOX RENEW and SURFOX SHINE were designed to clean, restore and protect stainless steel surfaces while promoting a cleaner, healthier, and safer industrial work environment.
SURFOX PRE-WELD – The fastest drying surface cleaner on the market
Designed as a pre-primer, SURFOX PRE-WELD removes contaminants from metallic surfaces prior to welding. With a reduced VOC content, it is formulated to replace surface preparation solvents such as acetone, resulting in a safer more efficient work environment.
SURFOX RENEW - Restoring stainless steel to its original condition
A powerful surface cleaner, SURFOX RENEW was designed to restore stainless steel by removing rust and oxidation without attacking the parent material. VOC and solvent-free, it is an ideal alternative to harsh abrasive solutions. Furthermore, the SURFOX RENEW comes in a gel format, making it easier for the product to cling to inclined surfaces.
SURFOX SHINE - Protecting indoor stainless steel surfaces in one easy step
This is an ideal product for achieving a flawless finish on stainless steel surfaces. The SURFOX SHINE is an innovative, VOC free, non-hazardous solution that will remove dust, dirt, fingerprints, oils and handling marks. It is also streak-proof and leaves an invisible dry film to preserve the finish.
"With the addition of these new SURFOX solutions, Walter now has a comprehensive portfolio of products for welders to take their jobs from A to Z," said Jonathan Douville, product manager at Walter Surface Technologies. "From surface preparation, to anti-spatter protection solutions to advanced weld cleaning, Walter provides the solutions needed for all welding applications to save time and money, improve working conditions, and reduce the environmental impact."