Posted May 4, 2021
FOUNDATION modular platform system
Wearwell has introduced a new generation of work platforms, FOUNDATION, designed to raise workers to ergonomic work heights while providing a safe and stable floor.
---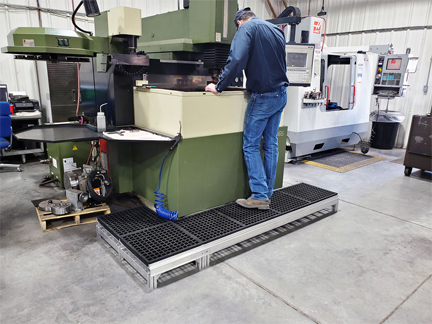 FOUNDATION is a platform system designed to refine work platform planning and assembly. Launched in April 2021, FOUNDATION is the first of its kind and a brand new product category for Wearwell work platforms.
FOUNDATION is more than just a raised floor. Designed to deliver the strength and stability of traditional platforms, its modular design goes together for a fraction of the price and time it takes to build custom plywood or fabricated metal platforms. The modularity of this bold new system allows reuse and redesign: something traditional work platforms wastefully lack.
"Breaking into an entirely new product category is serious business. We want to expand into spaces where our credibility, innovative spirit and brand recognition are an instant asset. The world of work platforms fits that criteria," said John Moughler, Wearwell's chief business development officer.