Weiler Tiger bonded abrasives
Weiler Corporation announced the launch of its full line of Tiger bonded abrasives.
---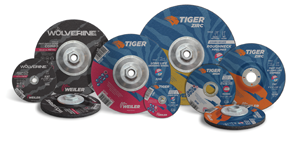 The new line is manufactured in its recently acquired, state-of-the-art SwatyComet facility in Slovenia.
"Weiler is focused on serving the welding and fabrication industry, and that means meeting all of our end user needs," said Tony Hufford, welding and fabrication category manager, Weiler Corporation. "The addition of our Tiger bonded abrasives products — combined with our wire brush and flap disc products — lets us do that."
The line includes cutting, grinding and combo wheels available in high performance, performance and value tiers, allowing users to prioritize between long life, fast cut or both, depending on their specific application.
Tiger High Performance
Tiger High Performance cutting and grinding wheels feature ceramic-infused zirconia alumina, ideal for applications in steel, stainless steel, armored steel, structural steel, cast iron and Inconel. Offering both long life and fast cutting, the Tiger High Performance tier features a smooth outer layer on cutting wheels to reduce friction and kickback, and self-sharpening grain to increase performance and a strong resin bond for long life. Tiger High Performance grinding wheels are cut back for instant aggressive grinding on new wheels.
Application-specific options include contaminate-free Tiger INOX, a worry-free solution for stainless steel and other hard metals, and Tiger Roughneck Pipeliner, a zirconia alumina wheel at a true 1/8" width for optimized material removal in pipeline applications.
Tiger Performance
Providing a combination of performance and value, the Tiger Performance line offers a long-life solution for general-purpose applications. The Tiger cutting wheels are available in thin and super-thin widths, and feature an aluminum oxide grain for an even and clean cut.
Tiger Cup Rocks are designed for applications in which extreme material removal is necessary and finish is less of a concern. The Tiger Cup Rocks cover a wider area than grinding wheels and remove more material over a longer period of time — increasing productivity and reducing fatigue.
Wolverine
Previously known as Vortec Pro, the Wolverine line has been rebranded and expanded. The line now features new and improved large cut-off wheels and combination wheels ideal for use on carbon steel, iron and general-purpose metal use, delivering a fast cut rate and consistent performance.
"Through the acquisition of SwatyComet we are able to leverage their unique technological capabilities and state-of-the-art manufacturing processes to bring to market a complete offering of high-performance cutting and grinding wheels with the new Tiger line. The tiered approach to our bonded line is designed to meet our customers' needs at any level," said Hufford. "Whether that's an aggressive grinding wheel for everyday use or a specialized cutting wheel for stainless steel, Weiler has the solution for you."