Weiler Tiger Aluminum Backed Flap Discs
Weiler's USA-made Tiger aluminum backed abrasive flap discs are designed for the most aggressive grinding jobs and use the strongest back available in the marketplace.
---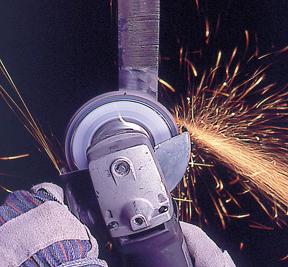 They produce less flex for more control. Aluminum backs will not throw fiberglass dust, considered a contaminant in some industries such as food service. For the growing environmentally conscious marketplace, aluminum backs are the only recyclable backing material in the industry.
Weiler's Tiger aluminum backed flap discs are made with a proprietary cloth containing a unique combination of grain, grain placement and grain size on a woven backing material specifically developed through Weiler's 20 years of experience in producing the most consistent flap discs.
Weiler's Premium Tiger brand aluminum backed flap discs are available in 4", 4-1/2" and 7" diameters with zirconium grit sizes ranging from 24 to 120. Also available is Weiler's Fast Cut Vortec Pro line of aluminum backed flap discs available in the same diameters and grits.
Weiler also offers a full line of standard and specialty flap discs in a variety of styles and grit sizes to solve a wide range of surface conditioning applications.