Posted April 20, 2022
Weiler Abrasives Foundry Abrasives
Weiler Abrasives announced the availability of its Tiger abrasives line designed to deliver maximum performance in the most demanding foundry applications.
---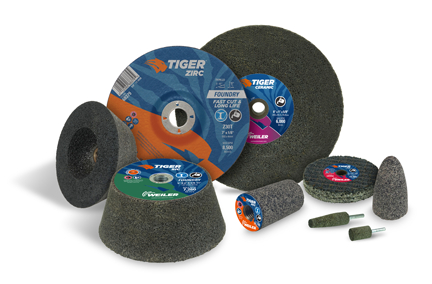 With solutions to address all grinding applications in the cleaning room, Tiger products help decrease cycle times and improve operator experience.
"It's common for the cleaning room to be a bottleneck in production. We're excited to bring products to the market that will increase efficiencies and help foundries keep up with increasing demand," says Kyle Thompson, technical product manager, High Volume Production, Weiler Abrasives. "This comprehensive portfolio encompasses the full breadth of off-hand products used in this market — so there is a productivity-enhancing solution for every job."
Tiger Type 11 Cups
The Tiger Type 11 cup wheels are available with industry-exclusive ceramic grain technology to deliver up to 30% faster cut-rate compared to competitive zirconia cups. The advanced micro-structure of the Tiger Ceramic grain results in extremely low specific cutting energy, providing ultra-high metal removal rates to improve productivity when grinding cast and ductile iron, cast steel and other hard-to-grind materials. Tiger cup wheels are available with multiple grain technologies: Tiger Zirc for fast and consistent metal removal; Tiger SiC for controlled cut-rate on sand castings with burnt-in sand; and Tiger AO for consistent performance on cast iron.
Each of the Tiger Foundry cup wheels includes a unique anchored nut to secure the cup in place, increasing safety and preventing product breakage. Testing shows that this feature provides up to three times higher torque holding strength and withstands double speed burst test ratings. The nut is zinc-plated to prevent oxidation, eliminate contamination and allow for easy spin-on and spin-off changeover. A precision-balanced cup design ensures smooth, vibration-free operation and reduces operator fatigue.
Tiger Type 27 Grinding Wheels
Weiler Abrasives is offering its Tiger Type 27 depressed center grinding wheels in three performance tiers specifically designed for foundry applications, including Tiger Ceramic for superior cut and long life. The ability to remove 40% more material over the wheel's life compared to competitive zirconia products increases productivity and reduces abrasive usage. Tiger Zirc and Tiger AO grinding wheels are also available, providing cost-competitive material removal rates and extended product life.
Each of the wheels include advanced anti-chipping technology that eliminates uneven edge breakage and chipping. This innovation improves operator safety by reducing flying debris during grinding and it also eliminates the need to dress the wheel to regain a workable edge, providing longer wheel life and increased product consistency. The grinding wheels have a triple fiberglass reinforcement for added strength. A 5/8 inch 11 nutted metal hub option allows for quick spin-on and spin-off changeover and prevents cross-threading or sticking to spindle due to heat buildup. In addition to 1/4-inch grinding wheels, 1/8-inch combination wheels are also available to provide flexibility and efficiency when switching between cutting and grinding applications.