Weiler Tiger and Vortec flap wheels
Weiler Corporation offers its line of Tiger and Vortec flap wheels for more aggressive cutting action and increased productivity in a variety of industrial production environments.
---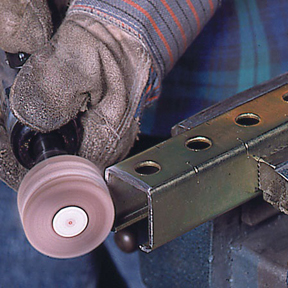 Weiler's premium line of Tiger flap wheels is designed for superior performance and is ideal for medium to high production environments. The Tiger flap wheels provide a high cut rate and a long life. Weiler's Vortec line is cost-effectively priced with a high cut rate and is ideal for low to medium production environments.
All of Weiler's flap wheels feature a solid hub construction, enabling them to be rated at a higher RPM which provides superior performance and smooth, chatter-free finishing.
Weiler's Tiger and Vortec flap wheels are ideal for a variety of applications from cleaning, edge blending, deburring and mismatch removal on machined parts, and smoothing metal, plastic and wood, to the final finishes on metal surfaces and finish prior to painting and plating. The flap wheels also yield great results when used for the blending and finishing on dies, molds, tools, tubing and channels.