Posted July 7, 2021
Werner expands fall protection portfolio
Werner announced a major expansion in its range of fall protection anchorage connectors.
---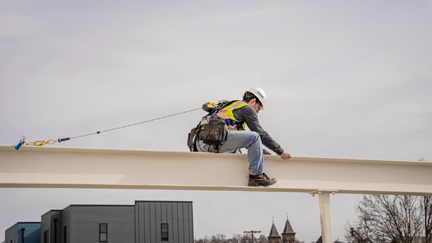 Through its acquisition of ClimbTech, Werner is now the exclusive provider of renown anchoring solutions that have been trusted for years, including: Removable Bolt Concrete Anchors (aka "Lollipop Anchors"), Mega-Swivel Anchors, I-Beam Sliding and Fixed Anchors, Toggle Bolt Anchors, Rescue Ladders, and more.
This expansion ties into Werner's Fall Protection Pillars: 1.) Safety is in our DNA 2.) Dedicated Partner for Life 3.) Innovation Comes Standard. Committed to supporting users' current and future needs, Werner has also added engineering personnel and enhanced its capabilities in customer support and education – further strengthening areas where Werner has been an industry leader for years.
"We are winning by focusing on differentiated innovation and customer needs driven by our connections with end-users through our hands-on training and education," said Eric Miller, WernerCo's vice president and general manager of fall protection.
In addition to adding several key exclusive products to its fall protection line, Werner has expanded its current range of anchors. The new fall protection anchorage offerings are already helping end-users solve real-world problems by combatting environmental factors that compromise safety and helping to prevent human error.
"Werner has become a leading brand of fall protection products in the construction market through its unrivaled training support and innovative product designs," Miller said.