Werner Podium ladder with casters
Werner plans to offer factory installed casters to its new heavy-duty Podium Ladder.
---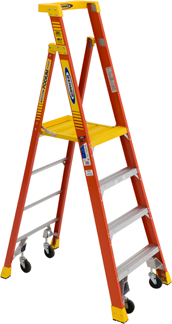 The wheel casters are spring loaded to deactivate automatically when the ladder is in use. The ladder features an extra-large platform, 36" high-extended guardrail and LOCKTOP to hold tools and accessories. The Podium allows a professional contractor or DIY enthusiast to safely and comfortably access the job at hand. And now, with the addition of casters, the ladder is easy to move around the jobsite to further improve productivity.