Wilton B.A.S.H. Splitting Maul
The new Wilton B.A.S.H Splitting Maul with Unbreakable Handle Technology is the world's most durable maul.
---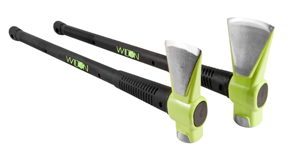 No other splitting maul on the market today can match the resilience of this tool or survive the punishing treatment it endures, according to the company.
"Based on the performance characteristics and track record of the popular Wilton B.A.S.H Sledge Hammer, we applied this technology to our new line of splitting mauls," said Tim Onello, Wilton's Director of Product Management. "Let's just say that anyone who has used a splitting maul to split wood or pound stakes with its sledge end will immediately feel the difference."
A maul is basically a wedge and is used for splitting wood. Unlike an ax, the pitch of its blade is more pronounced and unlike an ax is less inclined to get lodged in the wood. It's also an effective striking tool when the sledge end is used for pounding stakes and other materials. For logging and landscaping industries, it's a must. Homeowners with fireplaces can use it for splitting wood to help heat their homes when wood is a primary or secondary heat source.
This Wilton B.A.S.H Splitting Maul product line features a steel core design that prevents breakage during overstrikes, which is the most common cause of failure in wood and fiberglass handled splitting mauls.
B.A.S.H Splitting Mauls are 400 percent tougher than models with wood or fiberglass handles. In an overstrikes test, leading competitors' wood handles failed after 435 strikes, while fiberglass handled maul's collapsed after 6,800 strikes. The B.A.S.H Splitting Mauls were still going strong after 25,000 overstrikes.
An accidentally hurled splitting maul's head is a lethal weapon and a serious safety hazard. To address head dislodgement, B.A.S.H Splitting Mauls feature a hardened steel safety plate that secures the head with six steel rods. These rods are bound together, lock down the maul's head to eliminate dislodgment. They run the entire length of the handle. Ergonomic, full-length, textured rubber, non-slip handle grips are standard on all BASH Splitting Mauls.