Zep Professional Advantage+
Zep Distribution, a unit of Zep Inc. will launch its Zep Professional Advantage+ chemical management system in a wall-mount and portable configuration.
---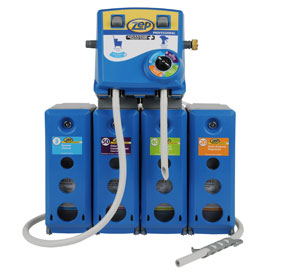 Advantage+ reduces chemical exposure to employees, provide consistent performance, and offers a sustainable solution for customers looking to gain LEED-certification.
Zep Professional Advantage+ features:
Easy installation – the dispenser installs with just 8 screws and there are no tubes or metering tips to set-up
Minimizes exposure to concentrated chemicals, provides accurate dilution and reduces maintenance utilizing an innovative color coded, closed-loop packaging
Dispenses a variety of Zep Professional Advantage+ chemicals ranging from general-purpose cleaners to industrial degreasers as well as several environmentally preferred Green Seal- certified formulations
Reduces inventory for both distributors and customers with a 2 liter chemical bottle that can be utilized in either the wall-mount or portable configuration
Features the first ever TimeMist® concentrated premier odor counteractant liquid fragrances
Advantage+ is available in two dispensing platforms, a wall-mount dispenser or a portable dispenser. The wall-mount unit offers customers several features that improve installation, performance and maintenance including, an easy interface to select chemicals with a turn of a dial. The portable Advantage+ dispenser is ideal for small spaces or facilities where a water supply is available and offers all the benefits of the wall-mount version but without installation. The portable dispenser's easy-to-hold ergonomic handle is comfortable for all hand sizes. Both dispensers also have backflow prevention options available to meet local plumbing requirements and can fill spray bottles, mop buckets, and autoscrubbers with ease.