Pocketbung wrench
The Pocketbung wrench is a newly developed multi-use bung wrench that is small and lightweight, yet durable.
---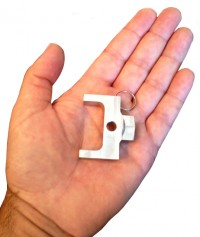 It can be used to open or tighten virtually every type of bung lid. PocketBung can be used to unstop both a plastic drum and a metal drum and works for a variety of sizes including 5, 15, 30 and 55-gallon drums. It successfully accomplishes the job yet it is smaller than the palm of a hand.
It can be used in conjunction with a wrench, 3/8" driver, screw driver, ¾" crescent wrench or channel lock plier to add leverage to the process. This allows consumers to open a barrel speedily and with confidence, without injuring their knuckles.
The PocketBung is available in four industrial grade metals: aluminum, brass (non-sparking), steel, and stainless steel (food-grade). A traditional drum wrench or bung wrench may be made of a cheap material such as plastic or may be of a bulky cast metal. The design and materials used in the PocketBung create a durable and lasting product. Unlike traditional bung wrenches, which may be large in size and difficult to carry, the PocketBung is easily transported, saving time. The tool can be customized to display a company logo or other emblem.
John and Bill Daker of eVolution Brands LLC designed and developed the tool.